Some highlights from this weekend's Event Driven Monitor
Have a friend with an ED ("Event-Driven") problem?  Forward this newsletter to them and they can sign up for their own ED fix right to their inbox:
---
The Event of the Week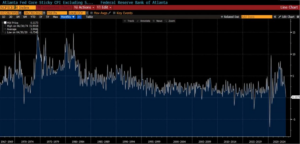 Annualized 3-Month Average Sticky Inflation (Excluding Rents)
Like Mike, we are laser focused on bankruptcies and layoffs and agree we may be headed for a volatile period moving forward. We just think the FED engages Project Zimbabwe and ultimately prints to infinity….
1) Sticky vs flexible Inflation – Sticky inflation is a metric of things entered into long term contracts (e.g rent). Flexible inflation is spot (e.g. gas prices). Labor dynamics have historically been tied to sticky inflation. Sticky is down to some of the lowest its ever been. Rents/OER are negative YoY. We have a fundamentally deflationary environment with conditions where there is not a lot of incremental demand.
2) Interest rate hikes have been slow to feed through the main economy.Most people locked in 30year rates at the lows. Corporate net interest payments are actually still falling. Meanwhile, money market rates skyrocketed, so the average consumer is capturing a few hundred bps spread. Socicial security recipeints got a 9% raise too. The income coming out of the FED rate hikes are higher than the costs associated with it.
3) Stagflation may be a possibility but worth noting that we have never had stagnation in history. Even in the 70s, we saw the most rapid rate of job growth and household formations in US history. That's not stagnation. That was pure inflationary environment.
4) Will the FED/government become accommodative again? We are not seeing crazy amount of spending coming from the government. The rise in government spending has been about 7.5% net growth in terms of expenditures which includes 9.3% increase in SS payments. Meanwhile the ballooning deficit is largely due to the decline in tax collections. Personal tax receipts are down 20% but that's due to California moratorium on tax due to the wildfires which accounts for 15% of federal collections – this will show up in the tax receipts in H2. Bottomline, the expansion of the deficit is NOT evidence of dramatic government spending.
5) High yield market – HY hasn't rolled over in the indices but we are seeing incredibly low turnover and weak price discovery. HY is printing 5.5% BUT models suggest its closer to 12-13%. And at 12% all these companies are effectively bankrupt. If the FED cuts due to economic weakness, operating income will get slammed so a cut won't help these companies.
---
Kuppy's Tweet of the Week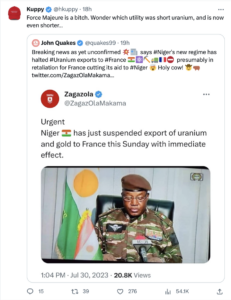 We love the smell of uranium supply chain disruption in the morning…
---
Chart and Kliff Note of the Week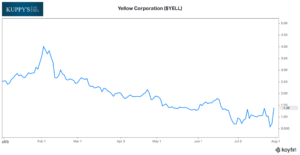 Yellow Corp (YELL) – reportedly expects to file for bankruptcy today and started shopping its 3PL unit Yellow Logistics and first rounds of layoffs this past Friday. Naturally the stock is up almost 100% on Monday.
YELL is facing $1.3bn of debt maturities in 2024 and announced its One Yellow initiative to reorganize operations and prepare its refinancing bid. After completing phase 1 of the initiative, the union reportedly blocked further progress. The YELL/union fight came to a head when YELL missed a benefits contribution on 7/18 and the union promised the strike in response. The strike was adverted, but it was enough to spook customers to pull its shipments from YELL, leaving the company with only a few weeks of cash on hand (and no progress towards $1.3bn of debt). YELL has ~30,000 employees, including 22,000 Teamsters.
YELL competitors are lined up to welcome fleeing customers from the 3rd largest LTL carrier in the US…
---
Friends of KEDM
---
Kuppy's Event Driven Monitor scans over 20 corporate events for market moving information and distills them into our propietary "Kliff Notes."  One profitable trade should more than cover an annual subscription and access to the Event Driven chatroom!