Some highlights from this weekend's Event Driven Monitor
Have a friend with an ED ("Event-Driven") problem?  Forward this newsletter to them and they can sign up for their own ED fix right to their inbox:
---
The Event of the Week
Here are the top 5 topics we were asked about by our members at happy hour last Friday…
1)  How are you keeping sane as markets/themes chop?
It's kind of a continuation of last year. It's now almost six quarters with not much performance. It's kind of depressing and frustrating. But this game goes in cycles. There were some moments this week when oil was down, and I felt like my week was as bad as Carl Icahn's [joke].
2)  Uranium thoughts?
We took Uranium exposure to "lunatic level" [this week] as we heard there was an off-market U print at 59 that should clear next week. I think that's going to wake people up because one utility filling one reactor, [effectively] lifted the market 20%.
3) Recession Bros and oil…
I don't see any recession. But sure, recessions happen eventually. And for whatever reason, [the recession bros] decided short oil. If you look at the data, it's something like 400 million paper barrels that were sold by speculators over a six-week period. You're talking about something like 10 million barrels of incremental supply a day.
4) Offshore thoughts?
Offshore services are doing phenomenally well and Noble [NE – USA] just booked a seventh-generation rig for two and a half years at $495,000 a day. That's a recent high for this cycle, but it works out to almost a quarter billion in EBIT.
5)  On NVDA…
I don't chase stuff going up. And I definitely don't want to short stuff going up. I'm pretty good, when stuff stops going down; that's my sweet spot. The stock just makes no sense to me. I don't understand A.I. or chips. So, I have no edge. [i.e. Stay in your lane].
---
Kuppy's Tweet of the Week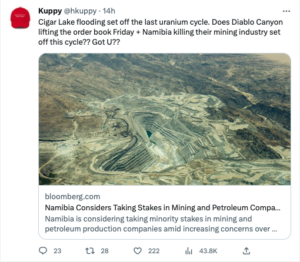 Friends don't let friends invest in junior miners.
---
Chart and Kliff Note of the Week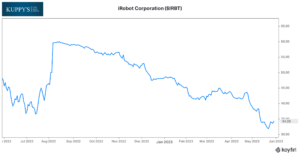 The new theme of antitrust regulators vs. the "big tech" seems to be emerging globally as regulators continue to fire shots. Expect more and more deal breaks going forward.
–  ATVI / MSFT deal is sitting with 23% spread. EU approved, but the UK CMA blocked the deal. US regulator is making up its mind. MSFT filed an appeal against the UK antitrust this week.
–  IRBT / AMZN deal spread is ~80%. The US FTC asked for a second request. The UK CMA launched its investigation, and the EU is expected to look at the merger.
---
Friends of KEDM
---
Kuppy's Event Driven Monitor scans over 20 corporate events for market moving information and distills them into our propietary "Kliff Notes."  One profitable trade should more than cover an annual subscription and access to the Event Driven chatroom!