Some highlights from this weekend's Event Driven Monitor
Have a friend with an ED ("Event-Driven") problem?  Forward this newsletter to them and they can sign up for their own ED fix right to their inbox:
---
The Event of the Week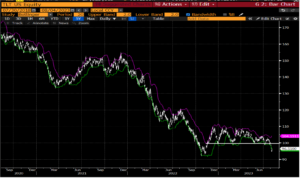 TLT decisively broke its support at 100
KEDM readers know we have been laser focused on treasuries lately. And this week, the "line in the sand" was breached.
With that breakdown, credit was on everyones tongue, even getting The Ack to opine who is "short in size" on the long end (@Bill feel free to reach out for a comped KEDM subscription. You're a month late to the party!). Let's quickly revisit what we noted a month ago on these pages as we think the thesis still plays…
We told ourselves that we'd take our exposure down, way down, if TLT lost $100. We had a firesale of assets this week and keep scrolling through our book this weekend to find more exposure to dump. We tossed anything that we don't want to own through a crisis. We want room to buy that crisis. We worry that the crisis is coming, and soon.
We love our volatility. We're going to try and squeeze in a quick vacation to the old country, because this fall, we think that the fireworks start. We're building our battleplan. We want to know what to own. Gold, energy and what else?? We want to buy that first crack in gold that always seems to come in a risk-off environment. But what else do we own when the world's reserve currency detonates in a supernova??
Honestly, we don't know. But we don't plan to be early in figuring it out. Mostly, we just want to avoid the carnage.
---
Kuppy's Tweet of the Week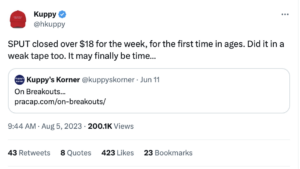 Everyone is a breakout trader these days
---
Chart and Kliff Note of the Week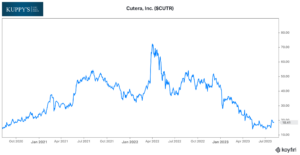 Cutera, CUTR, finally installed a permanent CEO in Taylor Harris who has deep experience in CFO'ing. This is a controversial name this year with lawsuits flying and 13D filed after the previous CEO David Mowry was terminated with cause earlier in the year. All this drama may be masking the true potential of AviClear.
---
Friends of KEDM
---
Kuppy's Event Driven Monitor scans over 20 corporate events for market moving information and distills them into our propietary "Kliff Notes."  One profitable trade should more than cover an annual subscription and access to the Event Driven chatroom!