Some highlights from this weekend's Event Driven Monitor
Have a friend with an ED ("Event-Driven") problem?  Forward this newsletter to them and they can sign up for their own ED fix right to their inbox:
---
The Event of the Week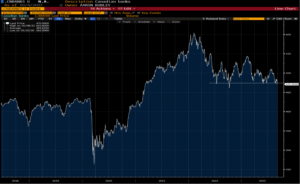 Basket of Canadian Banks Breaking Down
Canada. You know, the place where all the banks lent against overpriced real estate, using floating rate mortgages…
As you can imagine, it's going bad, and fast. According to Unusual Whales, one in every five home loans at three big Canadian banks are now negatively amortizing…
"Three prominent Canadian banks have disclosed that approximately 20% of their residential mortgage borrowers, representing nearly $130 billion in loans, are experiencing a situation where their outstanding balances are increasing because their monthly payments no longer cover the full interest owed."
Clearly, the shareholders of these banks are not amused. Look at the chart on the following page as Canadian banks just sit perched on support and seem to be finally breaking key levels (we're short)…
---
Kuppy's Tweet of the Week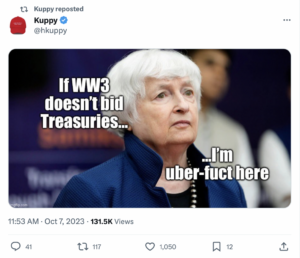 Reminder to you ETF watchers that bonds don't trade* until tomorrow…
---
Chart and Kliff Note of the Week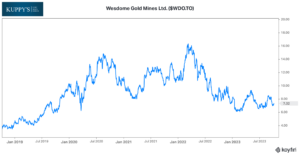 Insiders have perked up in the miners and servicers:
One such example is at the gold miner Wesdome Gold Mines (WDO CN). This name was also featured in the most recent Grant's Interest Rate Observer.
5 other miners or mining adjacent names popped up on the Cluster Insider Buying Monitor this week…
---
Friends of KEDM
---
Kuppy's Event Driven Monitor scans over 20 corporate events for market moving information and distills them into our propietary "Kliff Notes."  One profitable trade should more than cover an annual subscription and access to the Event Driven chatroom!