Some highlights from this weekend's Event Driven Monitor
Have a friend with an ED ("Event-Driven") problem?  Forward this newsletter to them and they can sign up for their own ED fix right to their inbox:
---
The Event of the Week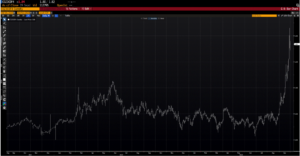 Brent Crude Timespreads
Let's start with Brent Oil timespreads (chart above). MbS and Putin finally put the hurt on Biden. This is a big boy move. Look at how tight the physical market is, even when compared to the Ukraine invasion. Do you think they let up? Do they force Biden to dump the last of the SPR a year before the election?? Or does oil simply moon…??
Let's just say that after months of thinking that Q3 and Q4 would be when liquids got tight, it finally seems to be happening. Meanwhile, the US rig count continues collapsing, despite $90+ oil. Guess it turns out that in a capital-intensive industry, the cost of borrowing actually does goes into the math on when to drill.
Higher oil isn't compensating for OFS inflation along with much higher funding costs. Who'd have thunk that higher rates could be inflationary?? KEDM has been all over this concept and it's fascinating to see it all playing out in practice…
---
Kuppy's Tweet of the Week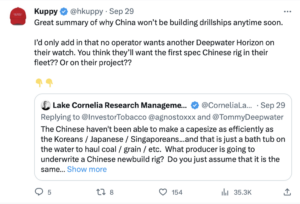 More reasons for OFS inflation
---
Chart and Kliff Note of the Week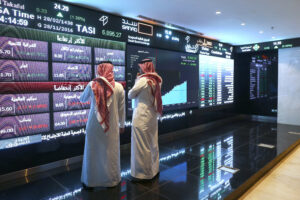 Saudi Arabia had two privatizations priced this week:
▪ The IPO of an offshore and onshore driller – ADES Holding, ADES AB, is oversubscribed. Expected to trade in October.
▪ Saudi Arabian Logistics (SAR AB) is expected to raise ~$670 mil and is also oversubscribed. Expected trading is in October.
MENA Region has been on our Inflection Monitor for a while now but also starting to pop up on the Event-Driven side.
---
Friends of KEDM
Stop what you're doing and listen to our good friends Luke Gromen and Jack Farley on Forward Guidance. The title says it all, "Bond Market Sell-Off Will Continue If U.S. Dollar And Oil Stay High."
Kuppy got a nice shoutout from John Mauldin, the OG of finance newsletter writers. He gives a personal portfolio update where he cites Kuppy in relation to his uranium position.
Our special "uranium breakout" offer for KEDM closes this Friday. Sign up for your annual subscription before EOD on October 6th with coupon code U308 here and save $1308 on your first year back at KEDM.
---
Kuppy's Event Driven Monitor scans over 20 corporate events for market moving information and distills them into our propietary "Kliff Notes."  One profitable trade should more than cover an annual subscription and access to the Event Driven chatroom!