Some highlights from this weekend's Event Driven Monitor
Have a friend with an ED ("Event-Driven") problem?  Forward this newsletter to them and they can sign up for their own ED fix right to their inbox:
---
The Event of the Week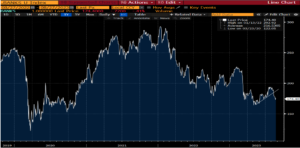 Big banks have not made up much ground since the regional bank crisis…
Let's turn our attention back home as a bunch of US banks look deadly. Above is an index of a handful of the larger banks. With rates where they are, stock prices are responding in obvious manner and breaking down. And we all know that you cannot have a proper financial crisis until at least one of the big 4 banks goes begging to J-Pow for a bailout.
Turning to Canada, Canadian Banks are looking equally as sad as they sit precariously on a ledge. After a decade, could the macro boys FINALLY be proven right about Canadian banks??
---
Kuppy's Tweet of the Week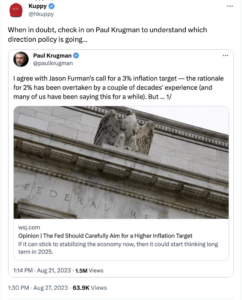 Krugman is the perfect combination of credentialed and stupid. The ultimate policy error leading indicator…
---
Chart and Kliff Note of the Week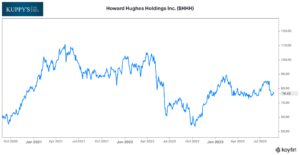 The Ack continues to gobble up HHH as he's looking for control and a backdoor for Pershing. He took in ~$2m for the week. On top of that, HHH is having an investor day. They've never had an investor day. Ackman has been buying like a madman (see Cluster Monitor above). Wonder if there's fireworks…??
So, we have this one popping up in the Cluster Buying Monitor and the Investor Day Monitor…
---
Friends of KEDM
Our friend Louis Vincent Gave put out a new piece as a counter narrative to the popular "China is Melting Down" rhetoric of the moment. He asks the "why now" question as the Western media seems fixated on China. And, as you know, we sure enjoy fading MSM sentiment. While we have no strong view here well worth the read.
Our friend Josh Young is hiring an analyst at his fund Bison Interests. If you're in the Houston area and have 3+ years of oil and gas equity experience, check out the application linked here.
---
Kuppy's Event Driven Monitor scans over 20 corporate events for market moving information and distills them into our propietary "Kliff Notes."  One profitable trade should more than cover an annual subscription and access to the Event Driven chatroom!