Some highlights from this weekend's Event Driven Monitor
Have a friend with an ED ("Event-Driven") problem?  Forward this newsletter to them and they can sign up for their own ED fix right to their inbox:
---
The Event of the Week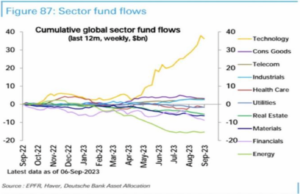 Old habits die hard
IPOs are back in vogue with a handful of mega deals hitting the tape. With NDX up 30%+ ytd, rates ripping and Fall seasonals kicking into high gear, i-banks are clamoring to get their paper to the market before we top out. ARM was manufactured to trade strong out the gate (read: small float) but with CART and KVYO behind it, does this supply mark the top of Ponzi 2023???? Be careful out there; this period reminds us of what we wrote in 2021…
"[we] have repeated the same warning that the Ponzi Sector was on borrowed time. Same logic as always (interest rates/lock-ups/supply overwhelming retail idiots… [we] believe the massive deluge of supply will eventually overwhelm the FOMO crowd and crush the Ponzi Sector. Look, we never want to see anyone suffer, but the market exists to separate morons from their money.
Given the size of the Ponzi Bubble, the coming rotation from Ponzi to real businesses could be the biggest fund-flow event of the decade. We are laser focused on it. Almost nothing else matters, because once it gets going, it won't stop for a VERY long time…"
While the general Ponzi bubble has all but deflated (has anyone heard from Cathie lately?) and valuations on privateCos got slammed (sorry, Chase/Tiger), the Generals have marched forward. But can they really withstand a power surge in rates as energy goes bid? De-gross (or find the bull market theme) and strap in for Fall…
---
Kuppy's Tweet of the Week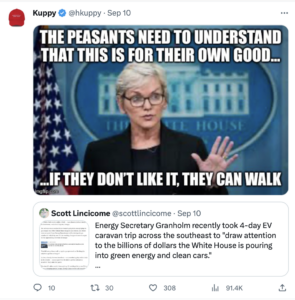 Sometimes truth is stranger than fiction
---
Chart and Kliff Note of the Week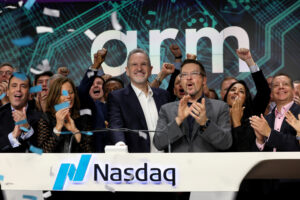 There is a mad dash to tap the equity markets before the Fall season. Starting to see a ton of supply about to hit the market while breadth is weak.
Softbank's ARM traded higher post-IPO with a tight float. The IPO seemed overpriced, but now seems 'WAY overpriced' with x163 PE, surpassing the OG of AI hype – NVDA, which is trading now at x110 PE. Unlock date is 3/12/2024.
---
Friends of KEDM
As we already mentioned above, it was a big week in uranium. Goehring & Rozencwajg posted a new blog on the topic that you can read here. Here is Kuppy's commentary on the piece…

"G&R comes to similar conclusions as me on uranium. The math is pretty obvious. At some point, utilities will stop drawing down inventories and instead go out and buy uranium—except there isn't much out there, due to the persistent deficits."

Keeping with our uranium trend but switching over to more mainstream sources, The Wall Street Journal published a big article titled "Nukes Are Back, but Uranium Is in Short Supply".
Reminder to all readers that we are doing a special "uranium breakout" offer for KEDM right now. Sign up for your annual subscription with coupon code U308 here and save $1308 on your first year back at KEDM
---
Kuppy's Event Driven Monitor scans over 20 corporate events for market moving information and distills them into our propietary "Kliff Notes."  One profitable trade should more than cover an annual subscription and access to the Event Driven chatroom!