Some highlights from this weekend's Event Driven Monitor
Have a friend with an ED ("Event-Driven") problem?  Forward this newsletter to them and they can sign up for their own ED fix right to their inbox:
---
The Event of the Week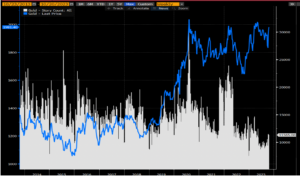 Gold Price vs. News Stories About Gold… Nobody Cares
So as DMs turn to EMs, and Middle East erupts, where do you turn? If its not bonds, then what else?? It's certainly not QQQs which looks like its sitting on a trap door, ready to spring open.
(If you said Uranium, you are probably not wrong!) But we are speaking of the pet rock, sporting one of the prettiest charts out there… Is it finally ready???
And oddly enough, people just don't care yet. The chart above shows the number of news stories citing "gold" hovering at decade lows (in WHITE) with the price of GC plotted in BLUE near all time highs. We think that will change in a hurry once we break out and retail buying arrives in force…
---
Kuppy's Tweet of the Week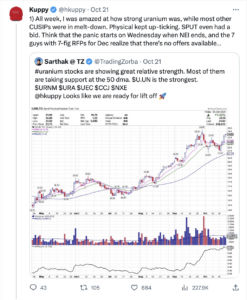 Last week was a good week to own rocks…
---
Chart and Kliff Note of the Week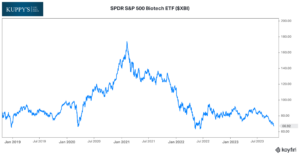 With XBI, the bio ETF/proxy, down 60%+ from highs, we are seeing an uptick in bio names conducting strategic alternatives and/or targets of shareholder activism. Many of these names are  trading at or below cash.
We had our analyst compile the list of all the names reviewing strategic options, sorted by Enterprise Value. We count almost 50 names trading near or below cash!! Happy hunting…
---
Friends of KEDM
On Twitter, @TommyDeepwater posted his analysis of 5 key discussion points for the offshore sector with some of his own analysis. These 5 points include some rumors from Pareto, examples of >$500K day rates, outlook for E&P capital budgeting and more…
Is nuclear energy going mainstream? At least on the podcast circuit it is. The Odd Lots Podcast released a Nuclear Energy focussed episodetoday with Mark Nelson from Radiant Energy Group. Specifically they're looking at what's really been holding back construction of new nuclear power facilities in the US…
---
Kuppy's Event Driven Monitor scans over 20 corporate events for market moving information and distills them into our propietary "Kliff Notes."  One profitable trade should more than cover an annual subscription and access to the Event Driven chatroom!