Some highlights from this weekend's Event Driven Monitor
Have a friend with an ED ("Event-Driven") problem?  Forward this newsletter to them and they can sign up for their own ED fix right to their inbox:
---
The Event of the Week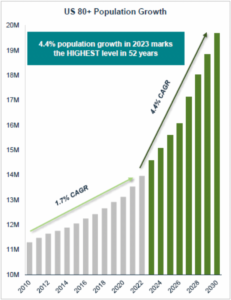 The Silver Tsunami is Upon Us
Maybe it's because we've lived in Florida for a few decades before becoming Puerto Rican, but elder care has always been top of mind. And yes, we've heard this pitch before, and yes, for the last decade it's been a graveyard riddled with oversupply and lowish occupancy due to overbuilding. But things might be changing…
This sector is generally broken up between nursing homes and skilled nursing facilities. The latter we don't like as it's all Medicare and Medicaid and the industry is dominated by schlocky operators who keep costs as low as possible to milk the spread until the government finally gets wise and shuts them down… but the former could be setting up nicely.
We think the opportunities here are vast and our analyst is just getting started down the rabbit hole. But we wanted to kick along our findings so KEDM readers could start to think about the trend and help crowdsource the opportunities in the Discord.
---
Kuppy's Tweet of the Week
TLT < $100 ✓
Gold > $2000 ✓
---
Chart and Kliff Note of the Week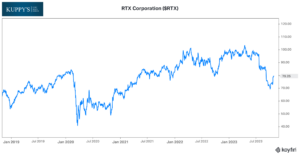 $RTX signed agreements with GS, MS and C for their $10B accelerated buyback. Worth noting $RTX is the manufacturer of the Iron Dome system used over in Israel… "War is our business and business is good"
---
Friends of KEDM
If you're reading KEDM you've probably got the commodity bug, but which one is the best? Our friend Brandon Beylo at Macro Ops recently wrote up Copper vs Uranium. I think you know which side of the debate we fall on…
One of the leaders in Event-Driven investing, Isaac Corre, PM and founder of Governors Lane, a $1.6bn hedge fund he founded in 2015 went of Capital Allocators a few weeks ago to discus how ED has evolved in his over 20 years in the business and how his unique background as a lawyer analyzing legal risk works with ED.
---
Kuppy's Event Driven Monitor scans over 20 corporate events for market moving information and distills them into our propietary "Kliff Notes."  One profitable trade should more than cover an annual subscription and access to the Event Driven chatroom!