Some highlights from this weekend's Event Driven Monitor
Have a friend with an ED ("Event-Driven") problem?  Forward this newsletter to them and they can sign up for their own ED fix right to their inbox:
---
The Event of the Week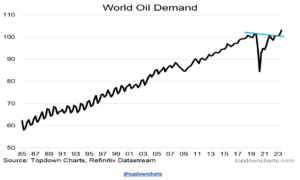 Sure doesn't look like demand destruction to us…
Crude oil finally caught a bid and broke out after a sneaky grind up over the last few months with front month Brent Crude hovering around $90/bbl. Over this period we've seen oil rally on builds and sell off on draws. On any given move it's nearly impossible to tell what exactly caused it, so we'll refrain from speculating, but the chart above tells the long term story we've been keyed in on at KEDM.
Nothing short of shutting down the entire global economy is going to stop oil demand growth driven by EMs. Mix that in with a market that refuses to acknowledge this reality, underinvestment in new production, and an emboldened OPEC+ and you've got a perfect storm for a structural bull market in oil.
Where is the oil going to come from? We're not sure but we do know that the producers trying to fill that gap are going to need OSVs. We think the market is starting to realize this as our OSV index has just hit fresh new highs.
Oil is what kicked off the last big bout of inflation. We'd be surprised if it wasn't at the seen of the crime for the next leg…
---
Kuppy's Tweet of the Week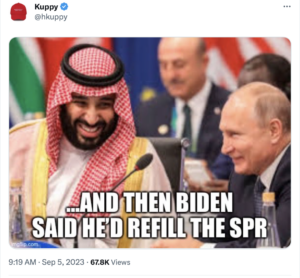 Saudi and Russia sticking to AT LEAST 3 more months of production cuts
---
Chart and Kliff Note of the Week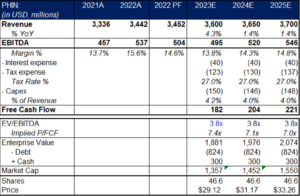 Phinia, PHIN, reported it's first earnings after spinning from BorgWarner (technically, 2Q23 was pre-spin since the spin occurred in early July), reaffirming FY23 guidance of $485m to $505m in AEBITDA alongside a $0.25/shr quarterly dividend and $150m share buyback program.
With PHIN dropping from ~$36/shr to $28 after the spin, it's market cap is sitting around $1.3bn, meaning the buybacks represent ~11% of the company, with the dividend adding another ~4%. Looking back at the table we included before the PHIN spin, the FY23 guided AEBITDA should translate to $180m to $190m of FCF on a $1.3bn market cap.
At this rate, with the SpinCo fully committed to being a cash cow, PHIN has the ability to make nearly 1⁄2 it's current market cap in FCF through FY25 and hopefully return most of that back to shareholders.
---
Friends of KEDM
When even the ratings agencies are sounding the alarm on a sector it may be important to pay attention. Jack Farley hosted the CRE dream team from Moody's Analytics, Manulife, and Raymond James for a discussion on the impending credit shock in the sector.
Our friends at The Market Huddle hosted Derek Wallis of 33 Capital Management for a frank discussion on how Wall Street has changed over his career that includes some serious stints at top hedge funds.

More importantly though Derek is the wonderful organiser of the September 13th USS Intrepid evening to honour active military and veterans. This year they will be supporting the Navy Seal One More Wave charity. The evening will have no speeches, no auction, no pitch for donations; just an open bar at one of the most iconic venues on the planet. If you are in New York and are interested in networking with a fantastic group of traders, supporting a great cause, and enjoying an open bar in an amazing location please check it out. Discounts available for Market Huddle listeners.
---
Kuppy's Event Driven Monitor scans over 20 corporate events for market moving information and distills them into our propietary "Kliff Notes."  One profitable trade should more than cover an annual subscription and access to the Event Driven chatroom!