Some highlights from this weekend's Event Driven Monitor
Have a friend with an ED ("Event-Driven") problem?  Forward this newsletter to them and they can sign up for their own ED fix right to their inbox:
---
The Event of the Week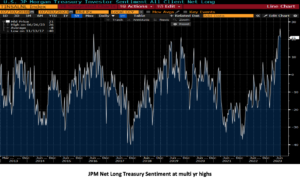 If the treasury market does break lower investors are woefully offsides…
We've watched waves of US government incompetence and corruption, debates about rigged elections and insane deficits, we've increasingly come to believe that the US is more akin to an Emerging Market than a Developed Market.
As a result, we sure as hell wouldn't lend this government 10-year money at 4%. While it has taken some time, others have slowly come to see things similarly—at least in terms of bonds.
Declining bonds have all sorts of highly negative implications, from raising the interest expense on the government debt (fueling more deficits in a doom-loop), to reducing the values of assets tied to cap rates, to destroying bank balance sheets as they're choking on duration, to margin calls at all sorts of institutions.
As bonds decrease in price, it almost becomes reflexive and we worry that the move this week in rates is the beginning of something quite terrifying, that almost no one is prepared for. Now, these things can meander along for extended periods of time, but eventually we think that a crescendo is inevitable.
We've always feared a move in rates, and now that it appears to have started, we're simply terrified that it feeds on itself—especially as it seems that everyone in finance is leaning the other way…
---
Kuppy's Tweet of the Week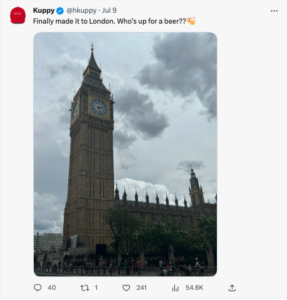 We're (royal we*) in London for a few weeks… Anyone fancy a pint?
---
Chart and Kliff Note of the Week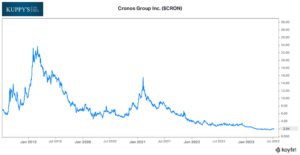 Cannabis names seem to be popping up in KEDM recently. Last week we had TSND CN uplisting to TSX. This week we have MO-backed CRON popping up on alternatives after receiving an IOI from CURA. Quick glance shows it trading less than NCAV.
---
Friends of KEDM
---
Kuppy's Event Driven Monitor scans over 20 corporate events for market moving information and distills them into our propietary "Kliff Notes."  One profitable trade should more than cover an annual subscription and access to the Event Driven chatroom!