Some highlights from this weekend's Event Driven Monitor
Have a friend with an ED ("Event-Driven") problem?  Forward this newsletter to them and they can sign up for their own ED fix right to their inbox:
---
The Event of the Week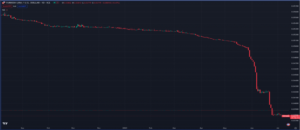 With his reign secured, Erdogan banned the Turkish CB from intervening in the currency market
Now you probably seen Erdy and Putin bff pictures, and he shrewdly used his relationship with the Russian President to get more gas and oil then he ever dreamt of. (Even gave free gas for a month to the entire country at election time). In return, Erdy blocked Sweden's bid for NATO, supported Putin's oil sales and even stopped supplying Ukraine with Drones and other light toys.
But we were surprised to see things changing last week. First he approved Sweden joining NATO, which was a big blow to Putin. Right after that, Zelensky appeared in Istanbul and Erdy gave him a departing gift of Ukrainian prisoners of war that were jailed in Turkiye, Putin was furious as he claimed that they were not Erdy's to set free.
What does this all mean? We think Erdy is moving back to the NATO/EU axis and will be sitting on IMF's lap very soon. If this continues, this is very positive from a foreign investors returning/ liquidity perspective.
Look, we are excited to play Turkiye this year & 2024, but not gonna jump the gun here. We'll be patient and dive in only when we feel the key threats are neutralized. We need to be comfortable that the KKM gets diffused orderly. So once again we are in wait and see mode (sometimes KEDM themes take years to develop). If you are following it, don't waste your time tracking meaningless KPIs like Export Data, PMIs, Incoming Tourist numbers, factory power usage etc. Don't be the dumb smart money.
---
Kuppy's Tweet of the Week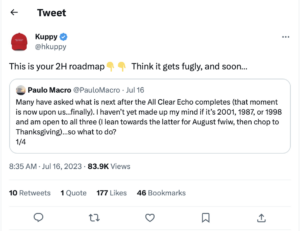 ---
Chart and Kliff Note of the Week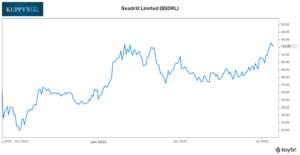 SDRL – Elliott loaded up on the offshore name, thru equity swaps looks like they are now at 15.65% of Seadrill's share capital. The boilerplate 13D filing doesn't really tell what their intentions are. Curiously following this as it involves one of our favorite themes. This is the second week Elliott popped up with reporting positions in offshore (last week they reported 10% in SUBC NO)…
---
Friends of KEDM
Kuppy published a new blog "On Businesses with Zero Visibility" on his free blog Kuppy's Korner. If you are following KEDM and not Kuppy's Korner you should definitely sign up for updates.
Harris recorded a podcast with Zeus Financial last week while he is traveling through the UK. You can listen to the appearance here.
Former KEDM Happy Hour guest Michael Kao dropped a new piece on his Substack where he updates his current outlook and discusses how he's trading differently these days at his family office.
---
Kuppy's Event Driven Monitor scans over 20 corporate events for market moving information and distills them into our propietary "Kliff Notes."  One profitable trade should more than cover an annual subscription and access to the Event Driven chatroom!