Some highlights from this weekend's Event Driven Monitor
Have a friend with an ED ("Event-Driven") problem?  Forward this newsletter to them and they can sign up for their own ED fix right to their inbox:
---
The Event of the Week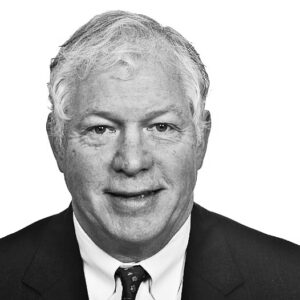 Join Kuppy and Bob Robotti this Friday June 30th at 4:15PM ET
Last year KEDM hosted its first live Happy Hour in Omaha during the Berkshire AGM weekend. We were lucky enough to share the (entirely too small) table with Josh Young and value investing legend, Bob Robotti. Bob overlaps a ton on KEDM's favorite themes (e.g. he sits on TDW's Board of Directors and holds just under 4m shares) so we figured we'd confirm our biases and welcome him back to chat oil, OSVs, building supplies and general cyclicals for our June Happy Hour. Bob is a value investing O.G. so get your questions ready as he holds court…
This is a crude (and imperfect) methodology for tracking performance, but by using a weighted basket of 13F holdings he has some of the best returns of the last 3-years.
KEDM trialists and active subscribers can register to watch the Happy Hour this Friday in the Member Portal…
---
Kuppy's Tweet of the Week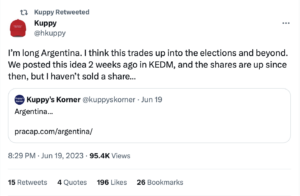 If you haven't read our recent writeup on Argentina…
---
Chart and Kliff Note of the Week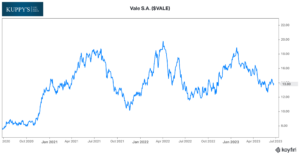 Saudi's PIF continues its buying spree as it emerges as the leading bidder in Vale SA's, VALE, base metals business. VALE is currently shopping a minority position in its base metals business with the ultimate goal to spin the base metals business after securing a minority investor. If successful, PIF may invest through its JV with Saudi state miner Maaden, which was set up to acquire minority interests in iron ore, copper, nickel and lithium businesses.
---
Friends of KEDM
---
Kuppy's Event Driven Monitor scans over 20 corporate events for market moving information and distills them into our propietary "Kliff Notes."  One profitable trade should more than cover an annual subscription and access to the Event Driven chatroom!