Some highlights from this weekend's Event Driven Monitor
Have a friend with an ED ("Event-Driven") problem?  Forward this newsletter to them and they can sign up for their own ED fix right to their inbox:
---
The Event of the Week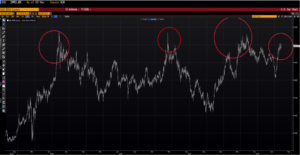 When Will Gold Finally Breakout?
Ever since Biden weaponized the Dollar and stole Russia's reserves, other countries are wondering why they should hold Biden Bucks, or Yellen Treasuries. They're buying as much gold as the liquidity window will allow. It's said that there's no such thing as a triple top, what about a quadruple top ??
It sure is frustrating. With that in mind, we unfortunately think that gold may need a few weeks of rest, as the Commitments of Trader report shows that the fast money mob got a bit too giddy, but we also think that gold makes its move before too long and we don't know how cute we want to be about getting long in size…
---
Kuppy's Tweet of the Week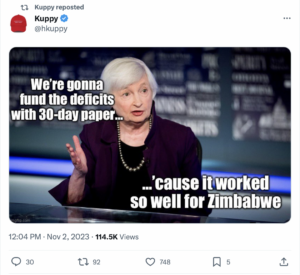 Project Zimbabwe continues as planned…
---
Chart and Kliff Note of the Week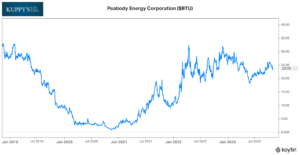 Peabody, BTU, is back on the Monitor. Through Oct 20 they have repurchased over 9% of the Company and have another $700m+ tee'd up (~22% of mkt cap). That's a lot of firepower…
---
Friends of KEDM
Kuppy was back on the Market Huddle this week but in a slightly different role. Kuppy stepped into Kev's shoes as Patrick's co-host this week. Pat and Kuppy welcome back to the show, Capitalist Exploits founder, Chris MacIntosh. The guys discuss bonds, rates, economy, shippers, offshore oil and of course, Uranium.
The only "central banker" on Fintwit we've ever agreed with, Rudy Havenstein was on the Know Your Risk Radio Podcast with Zach Abraham. Rudy, being anonymous, doesn't do too many podcasts.
---
Kuppy's Event Driven Monitor scans over 20 corporate events for market moving information and distills them into our propietary "Kliff Notes."  One profitable trade should more than cover an annual subscription and access to the Event Driven chatroom!