Some highlights from this weekend's Event Driven Monitor
Have a friend with an ED ("Event-Driven") problem?  Forward this newsletter to them and they can sign up for their own ED fix right to their inbox:
---
The Event of the Week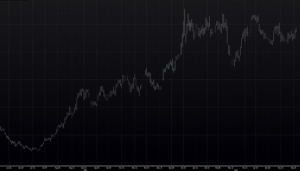 One of our favorite tickers from our newest inflection theme…
After a bunch of months without much trend or pin-action, suddenly we have a lot on our plate in terms of macro trends and inflections, and we intend to profile a few of them this summer.
This week we highlighted a new inflection theme and a basket of tickers worth looking into…
---
Kuppy's Tweet of the Week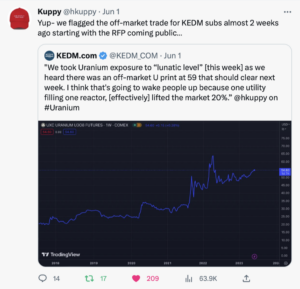 In addition to our new theme we also updated our uranium views this week…
---
Chart and Kliff Note of the Week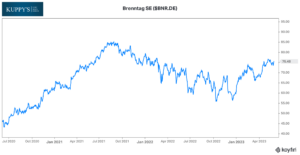 Brenntag SE (BNR.DE) owner PrimeStone Capital published a letter to the shareholders. Remember that the activist is pushing for cost-cutting and splitting the company into two: Specialty and Basic chemicals.
Fellow activist Engine Capital is supporting Brenntag's campaign, and the pair is having a proud moment; "For the first time in German history, ISS decided to endorse all nominees proposed by a "dissident" shareholder and recommend voting against all the company's candidates".
The picture, however, is not all rosy for the activists as on the opposite corner there is the richest man of Germany, logistics tycoon Klaus Michael Kuhne, who controls 5.2% of the company.
---
Friends of KEDM
Our unnamed new theme that we highlighted above is not Turkey… but we loved reading a similarly adventurous perspective from our friends at Undervalued Shares who also aren't afraid to go into the eye of the storm.
We take most sell side research with more than a grain of salt, especially when it is coming from GS, but we did give this interview with GS Head of Commodities Research, Jeff Currie a listen. He highlights that global commodity inventories are shrinking so fast that they are calling it "The Great De-Stocking".
---
Kuppy's Event Driven Monitor scans over 20 corporate events for market moving information and distills them into our propietary "Kliff Notes."  One profitable trade should more than cover an annual subscription and access to the Event Driven chatroom!