Some highlights from this weekend's Event Driven Monitor
Have a friend with an ED ("Event-Driven") problem?  Forward this newsletter to them and they can sign up for their own ED fix right to their inbox:
---
The Event of the Week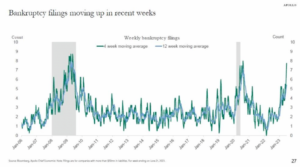 Yes, that is the biggest spike in bankruptcy filings since COVID
BKs are rising and the rate of change is increasing with filings up 17% YoY and climbing (as of the end of Q1 2023). Rates are climbing, pockets of the economy are rolling over, and markets may be topping here after a face ripper of an echo rally/dead cat bounce (hence our put spreads we threw out this week). This all translates to a TON of filings in the coming 18 month. It's a massive theme and one we are focused on as a possible way to "get short by getting long".
To be clear, we are not distressed players at KEDM. On the event driven side, we monitor BKs for the fulcrum and the possibility of a left-for-dead equity play post restructuring. But on the thematic side we are looking at it as a possible massive tail wind. Who benefits from the surge in filings? Who is most torqued to this coming avalanche of filings?
---
Kuppy's Tweet of the Week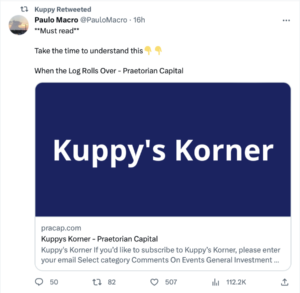 Keeping with our trend of Paulo Macro retweets…

---
Chart and Kliff Note of the Week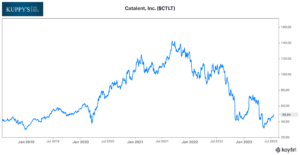 CTLT- Elliott reportedly built a large stake in the contract drug manufacturer, and looking to push for board changes after the company announced in April that business is slow, and the CFO stepped down shortly after. We can imagine that people waking up to vaccine realities probably not best for their segment that produces Moderna Vaccines, they also produce Novo Nordisk's popular weight loss drug Wegovy (Ozempic competitor). Let's see how Elliott will trim the fat on this one (…nailed it).
---
Friends of KEDM
Kuppy published a new blog "When the Log Rolls Over" on his free blog Kuppy's Korner looking at the risk of an EM style bond sell off triggering the next leg down. If you are following KEDM and not Kuppy's Korner you should definitely sign up for updates.
The FTC took a big loss in court and as a result M&A deal spreads narrowed. Our friends at CTFN have been doing a fantastic job with timely updates on M&A regulation. If you follow M&A at all we highly recommend giving them a spin in this dynamic regulatory environment…
We're hosting Mike Green for this month's KEDM subscribers only happy hour to discuss his deflationary/bearish macro outlook. Inflation or deflation aside, the one thing we agree on with Mike is that BKs are rising and the rate of change is increasing with filings up 17% YoY and climbing. Sign up for a 28-day trial to register…
---
Kuppy's Event Driven Monitor scans over 20 corporate events for market moving information and distills them into our propietary "Kliff Notes."  One profitable trade should more than cover an annual subscription and access to the Event Driven chatroom!