Some highlights from this weekend's Event Driven Monitor
Have a friend with an ED ("Event-Driven") problem?  Forward this newsletter to them and they can sign up for their own ED fix right to their inbox:
---
The Event of the Week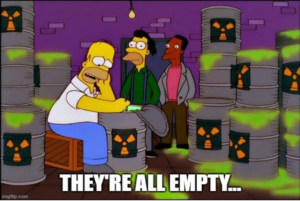 We cannot think of a commodity in the history of our studies that has had such lopsided financial balances…
Let's roll through some math while we're on the topic of uranium as we recently looked at some research reports and had a good laugh at their expense.
So, everyone seems to be clustering somewhere around 185-190 million lbs. for 2024 consumption. Which is fine if you're tracking annual usage of reactors. But, a bunch of reactors are having their initial loadings next year, including all the Japanese restarts.
Using VERY rough numbers, a reactor generally uses 500k lbs. a year, but an initial loading could use 1 to 2 million lbs. Factoring in those restarts, we tend to think that a number closer to 205 million is far more accurate for 2024 consumption and that number only increases in 2025 before levelling out a bit. However, the swing in underfeeding to overfeeding could use another 20 million lbs. in 2024, especially as it now seems that Russia has joined in the game.
Finally, if we were Western utilities and looking around at that map of Kazakhstan, we'd probably want to top off the inventory a bit. After years of drawdowns on inventory, we'd think it's almost inevitable that we're entering a re-stocking phase. Assuming 10% restocking, you have another 20 million lbs. of demand in 2024. So, call it 245 million of demand.
Now on the supply side…
---
Kuppy's Tweet of the Week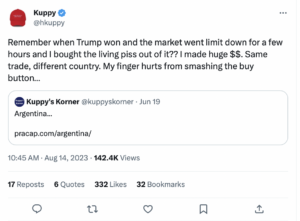 If you haven't yet heard our views on Argentina…
---
Chart and Kliff Note of the Week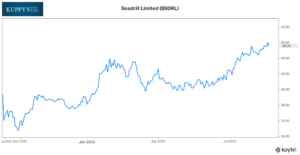 The 2022 BK Exit name, Seadrill, SDRL, announced a $250m program. Worth noting this popped up above in our 13F Tracker with Elliott and Greenlight both accumulating in the quarter.
So, we have this one popping up in the BK exit monitor (last year), Buyback Notes, and the 13-D/Activist Monitor…
---
Friends of KEDM
---
Kuppy's Event Driven Monitor scans over 20 corporate events for market moving information and distills them into our propietary "Kliff Notes."  One profitable trade should more than cover an annual subscription and access to the Event Driven chatroom!