Some highlights from this weekend's Event Driven Monitor
Have a friend with an ED ("Event-Driven") problem?  Forward this newsletter to them and they can sign up for their own ED fix right to their inbox:
---
The Event of the Week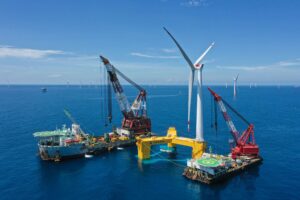 Offshore wind farms compete with O&G for scarce OSVs while being constructed…
The world of offshore keeps heating up, despite what is happening with the price of oil. Just this week, we learned that Subsea7 was bidding for DOF NO, even before the IPO was completed. Vroon is selling their OSV fleet, and while not quite an OSV, NETI and Cadeler are combining to create a much stronger player in WTIVs for wind power.
What does this all have in common? Consolidation is powerful as it allows you to generate synergies, and better plan your dry docks and maintenance, so that you generate higher utilization, but it also allows day rate pricing to flourish. We think pricing is going to continue climbing and based on current valuations at massive discounts to replacement cost, we don't think most investors have exposure to this sector. Which seems odd as it's one of the few sectors that will almost certainly have revenue and EBIT growth in 2024, based on current contracts in hand.
And why are we mentioning wind? Have we gone full-ESG here??! It's because wind construction projects are going massively over budget due to the inability to contract OSVs at planned rates. As wind construction demand grows, more OSVs will leave the O&G sector and only tighten that market. It's all connected and it's all experiencing an extreme bull market. In any case, we're quite long this sector and expecting fireworks on share prices soon.
---
Kuppy's Tweet of the Week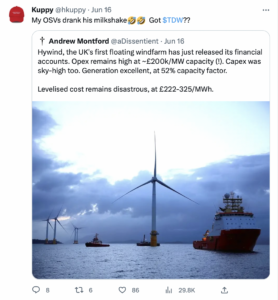 ---
Chart and Kliff Note of the Week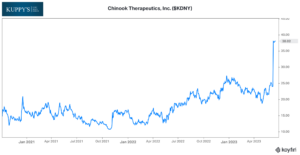 KDNY is in three monitors this week: Newsletter short, M&A and CVR. The company agreed to be acquired by NVS for $40.00 a share and $4.00 per share CVR. Muddywater's main short thesis was that the lead product would not get FDA approval.
---
Friends of KEDM
Kuppy returned to publishing on the Kuppy's Korner blog (formerly AiC) with a piece on a new inflection theme that KEDM subscribers learned about two weeks ago… Argentina!
While we are certainly excited to have a new theme out in the wild, having so much excitement around one of our older themes (uranium) is welcome after a quiet couple of months. Check out this podcast with the Mike Alkin if you need to get caught up to speed on the bull case for uranium.
---
Kuppy's Event Driven Monitor scans over 20 corporate events for market moving information and distills them into our propietary "Kliff Notes."  One profitable trade should more than cover an annual subscription and access to the Event Driven chatroom!