Some highlights from this weekend's Event Driven Monitor
Have a friend with an ED ("Event-Driven") problem?  Forward this newsletter to them and they can sign up for their own ED fix right to their inbox:
---
The Event of the Week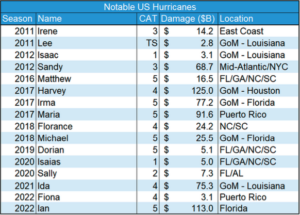 Does hurricane severity and location have any predictive power for exposed stocks and sectors?
If we put our Peter Lynch hats on, it's easy to come up with the classic hurricane plays: roofing/building products and the companies that distribute roofing/building products. We chose a few and measured their seasonal hurricane season returns against the damage caused that hurricane season to see if it really can be that easy…
Let's not forget about energy stocks either. Half of US capacity is at risk of having a Gulf hurricane shut in production for anywhere from a few days to multiple weeks.
Let's just say at first glance the numbers are intriguing for a few different groups of stocks when you factor in the path of the hurricane.
We're not trying to forecast the weather or do a rain dance… But with weather on our minds as we gear up for hurricane season in PR (remember last year with Fiona??), we figured we'd look into the possible plays. Its just how our brains work.
---
Kuppy's Tweet of the Week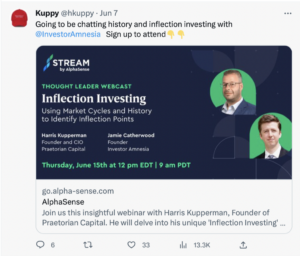 Join Kuppy and Jamie Catherwood this Thursday for a history lesson on market cycles…
---
Chart and Kliff Note of the Week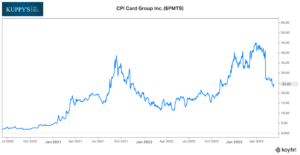 CEO of PMTS announced his retirement after the stock got crushed following the Q1 print. Still deleveraging the PE debt but growing and decently cheap off the FY23 guide.
---
Friends of KEDM
Kuppy returned to publishing on the Kuppy's Korner blog (formerly AiC) with a piece on breakout investing as it relates to one of his biggest investment themes… uranium.
Everyone seems to be bearish on the economy, but Kuppy sees it much more as a bifurcated economy. He joined Roger Hirst of The Lykeion on their podcast, The Ides of Macro, to discuss why he is more bullish on certain parts of the economy than others and why The Fed might break something, but probably not the US consumer or industrial sector.
Our friend and KEDM Happy Hour guest Michael Kao, just launched a new geopolitics meets macro focussed podcast, Kaos Theory, that he is cohosting with the great Grant Williams. In the inaugural episode, Michael and Grant interview Michael St. Pierre from the Royal Canadian Navy, whom Michael coauthored a paper on economic warfare with for a conference at West Point last year.
---
Kuppy's Event Driven Monitor scans over 20 corporate events for market moving information and distills them into our propietary "Kliff Notes."  One profitable trade should more than cover an annual subscription and access to the Event Driven chatroom!